How to Create a Website Structure that Search Engines Love?
Last updated: 06/23/2020
Read time: 10 mins
Your website SEO score is significantly impacted by your site's structure.
When structuring a site, the main focus should be on organizing the pages to ensure a streamlined navigation throughout a logical hierarchy.
Organized and easily accessible pages are incredibly important for the user experience, as well as for ranking in the SERP. In this blog post, we share a couple of tips that will help you create a website structure that search engines love!
Site structure and user experience
Search engines are becoming ever more user-oriented.
With users in their focus, they strive towards creating a service that always gives the best results. They achieve this by taking the user behavior into consideration. If a site has a high bounce rate and low dwell time, the search engines won't favor it. The site architecture plays an important role in defining the user experience.
The visitors should be able to navigate on the site and find the content they are looking for. You should help guide and direct them by creating a coherent structure. 
Site structure and search engines
The search engines crawlers discover and index your site's content and your goal is to make your pages easily accessible to assure they get recognized.
With an appropriate site structure you help the crawlers find the content quickly. You also help them understand what your site is about. This process is also assisted with submitting a sitemap.
Sitemap
A sitemap represents a map of a website's structure. It's extremely important for SEO, mainly because it's a key channel for communicating with search engines.
Sitemaps help increase search engine visibility. When the crawlers are discovering pages through the internal links and navigation available on the site, they might miss a page or just never return to index certain remaining pages. Sitemaps will direct the crawlers to consider all pages, hence they increase their visibility.
In addition, using the provided sitemap, search engines can also quickly detect new changes that were made on the site.
Sitelinks
Have you ever noticed that certain sites have a list of internal pages under their main one in the SERP? Have you ever wondered how they are made?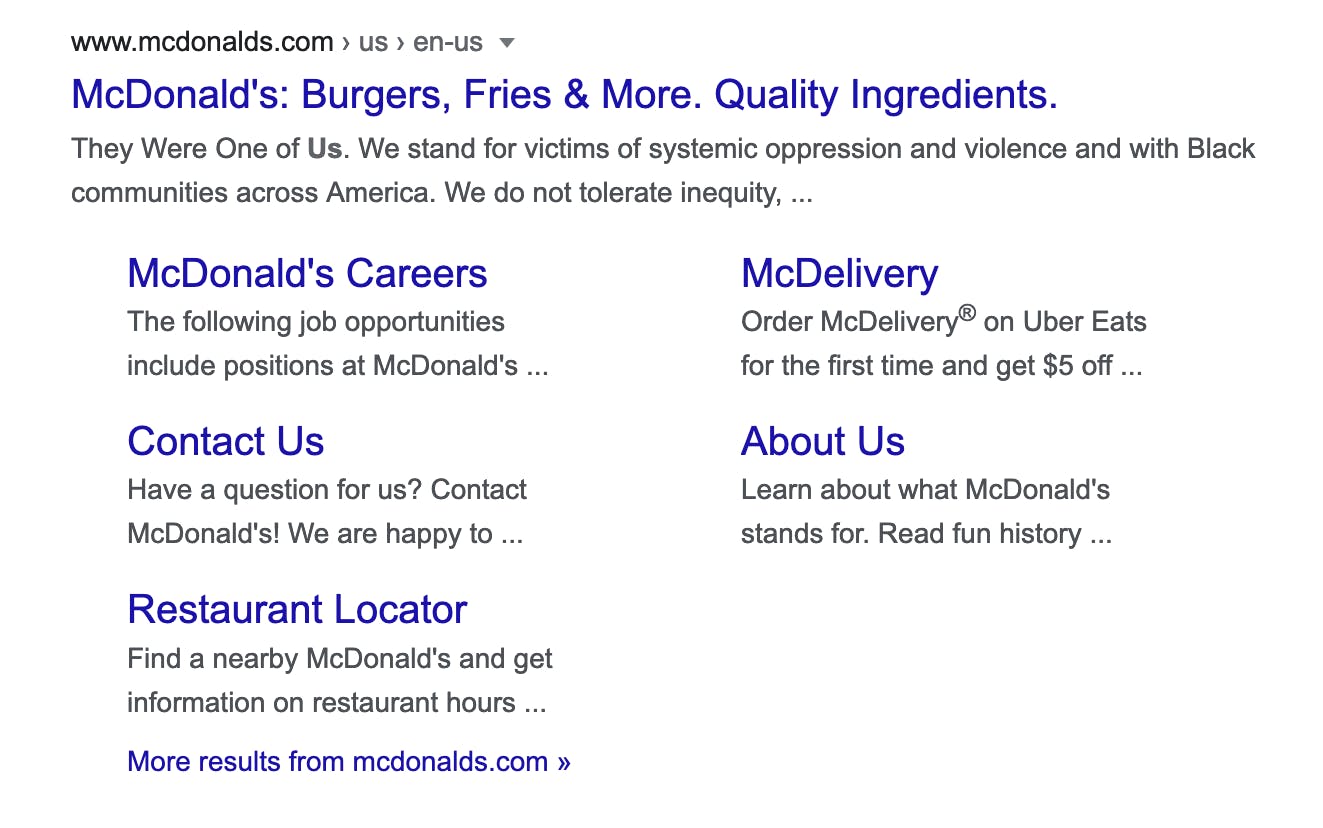 These links are called sitelinks, they cannot simply be included in the SERP and there's nothing we can do to create them. Except, we can organize our site properly. Google might then recognize our efforts and provide those internal links under our homepage. They can help navigation without the visitor even coming on the main page. These links encourage trust and improve the site's reputation. They take more space in the SERP, pushing the other results down the page and staying in the user's focus, as they look different and better compared to the rest. Therefore, sitelinks help increase CTRs.
Guidelines for creating a website structure that search engines love
Since the site structure is an import factor that impacts your SEO success, a couple of steps have been established as good practice. Let's take a closer look.
A LOGICAL AND INTUITIVE SITE HIERARCHY
Before even starting with the development of a new site, focus on scheme devising and organization of all pages in a coherent system.
The site architecture represents how the pages within a site relate to one another. They should be organized in a hierarchical order that arranges the pages on different levels from the bottom to the top. The hierarchy should have a logical flow and it should be intuitive – a visitor should find the information exactly where he thought it would be.
Your site should consist of a homepage at the top of the scale, which is followed by sections then subsections (applicable for larger sites), and finally at the bottom are the individual pages and posts.
Right underneath the homepage should be the main categories or sections. Each of them should cover a distinct area, a specific group of information, or a set of relative subcategories. The main categories compared to each other are unique. The subcategories should be connected and relevant to the parent category.
A flat architecture is recommended. This means that visitors can access all pages just in a few clicks, making it straight-forward and simple to navigate. The search engine crawlers can then find all pages within the site, minimizing the risk of missing one.
The hierarchy has to be reflected in your navigation menu, URL structure, breadcrumbs, and categories organization.
NAVIGATION MENU
Create a navigation menu in the header of the site and include your main pages that are preferably placed at the second hierarchy level from the top, right below the homepage.
Should your site and main categories be too complex, it is completely fine to use two menus in two different lines.
BREADCRUMBS
Breadcrumbs are a feature that is favored by search engines and at the same time gives the visitors a good sense of orientation on the site. They know exactly where they are on the site and they can go back to different hierarchy levels as well.
URL STRUCTURE
Once you have properly designed your site structure, it'd be a lot easier to develop an appropriate URL structure. As mentioned before, your URL structure reflects the hierarchy of the site.
Let's take a look at the example below. 
If you have a »Company« section (second level on a scale from the top) and then you have a subpage »Team« (third level), your URL structure should look like this:
www.yourdomain.com/company/team
It reminds of breadcrumbs but without the clickable links that lead directly to other levels.
Your URLs should consist of words, separated by a dash »-« if there is more than one word describing a page. The different levels are then divided by slashes »/«.
The URLs should be readable and of course, relevant to the page content.
INTERNAL LINKS
Connect different pages by placing internal links that are contextually relevant to the page.
The search engine uses these links to find out more about the linked page's content. They use the anchor text of the link to understand it better.
Conclusion
A well-organized site creates intuitive paths that signal and lead the visitor to the right information. 
As a factor that affects both, the site's SEO and the user experience, good site structure has become a must. So, make sure you follow these guidelines and your efforts will be rewarded.
up